Dogs Love Maine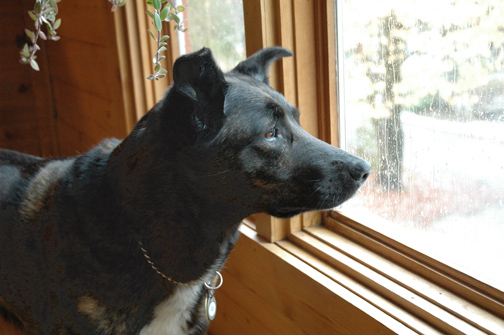 Our dog, Corey, (a lab-Akita mix) was raised from a puppy by my stepson in Boston and began spending long visits with us in Maine when she was two years old. By the time she was five she was with us most of the year and went back to Boston for visits. Although she was well adapted to city life, visiting with us in the country had always been a special treat.
In the spring we took her on the five-mile walk around the shoreline of Sears Island in Searsport. Connected to the mainland by a causeway, the undeveloped island is a favorite spot for dog walkers. Corey loved to run into the ocean chasing the ducks and seagulls.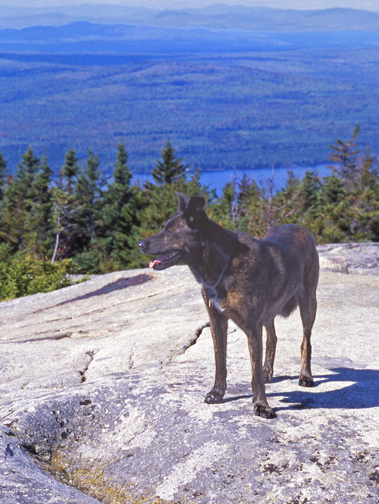 In the summer and fall we packed a picnic and went on longer hikes with her along portions of the Appalachian Trail. Corey, an alpha-female, always took the lead on the trail and loved to look down on us from a rock perch above as we struggled up the steeper inclines. Some trails passed a lake or pond where she could take a swim to cool off.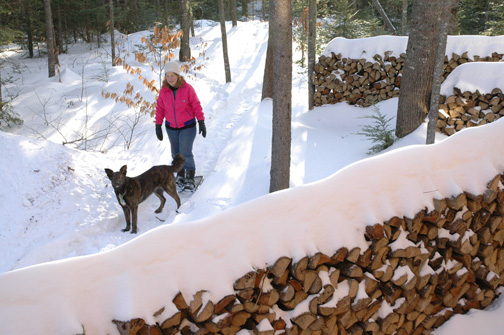 In the winter we showshoed with her through our 20 acres of wooded land. Corey would leap through the deep snow like a deer and once we packed down a trail with our snowshoes she would race ahead of us, staying on our path.
Sadly, at age 12, Corey went to doggie heaven. Living in Maine, she had a long, happy life and left behind wonderful memories with everyone who knew her. She loved Maine. Your pup will too! If you are looking for a dog-friendly neighborhood with safe places to go for walks and places to run off leash in mid-coastal Maine, just ask Martha!