Arts In The Park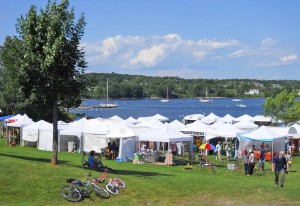 The 24th annual Arts in the Park (cancelled in 2020) takes place at the Steamboat Landing Park in Belfast. On display is the work of over 80 artists and artisans presenting everything from alpaca felt hats, wooden carved bowls and walking sticks, hand-made papers and books and twig furniture to traditional watercolors and photography. The festivities are heightened with continuous live music ranging from Belfast Bay Fiddlers to US Army Jazz Combo. And the food! Whatever you like, from wood-fired pizza to British-style fish 'n chips to Maine lobster rolls can be found here. www.artsintheparkbelfast.org.
Ukulele Festival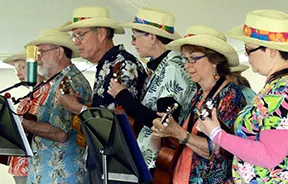 A group of Ukulele players in Belfast together with participants from the entire Midcoast region perform in an annual 2-day festival at Steamboat Landing in June. (Cancelled in 2020) In addition to performances, the festival usually features a potluck supper, workshops, vendors, a raffle, and ukuleles for sale. The performers also play locally for various events several times a year. Visit their website at www.midcoastukes.org.
Belfast Bay Fiddlers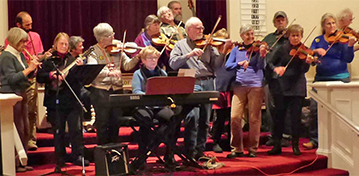 The Belfast Bay Fiddlers is a community music group performing at many local events, including contra dances for school children, summer festivals and at nursing homes. In addition to fiddles, members play flute, penny whistle, guitar, bass, mandolin, banjo and piano. The group rehearses Sunday evenings from 6-8 at the Waterfall Arts Center. All are welcome. www.belfastbayfiddlers.org
Flying Shoes Contradancing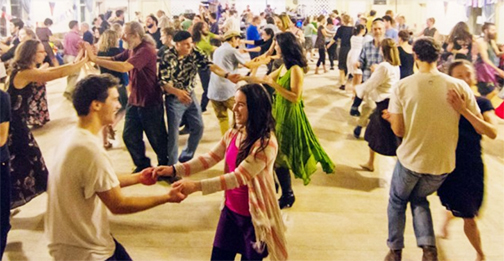 Belfast is one of the locations in the State where dancers of all ages line up ready to set their feet flying with the help of a caller and live band. Since 2005 caller Chrissy Fowler and a rotating cast of musicians, dancers and friends have held the First Friday Contras in Belfast.

Belfast Flying Shoes dances take place on the first Friday of every month at the Frank D. Hazeltine American Legion Post, a large white building at 143 Church Street in downtown Belfast. A community dance begins at 6:30pm with simple dances for all ages and a chance for all musicians to sit in. A contradance at 8pm features various callers and musicians.

Both square dancing and contradancing employ a caller — a person who guides dancers through the steps — but contras are much less complicated. The social atmosphere is more casual, too: no petticoats and Western shirts, no taboos on women dancing with women or men with men, and an emphasis on live music and community. www.belfastflyingshoes.org
YMCA Active Older Adults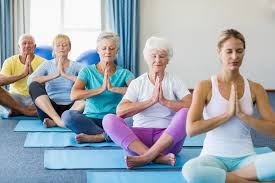 The Waldo County YMCA Active Older Adult (ages 50 & up) programs accommodate a wide variety of interests and physical abilities for seniors. The programs include land and water exercise, sports, yoga, day and overnight trips, painting, mahjong, bridge, book club, knitting, and monthly community lunches. YMCA seniors have a chance to keep active and grow in spirit, mind and body. New friends and new opportunities add joy to life. The YMCA also gives older adults a chance to volunteer their time and talents with others. For more information: http://www.waldocountyymca.org/activeolder.htm

Midcoast Actors' Studio
The Midcoast Actors' Studio was formed in 2012 with an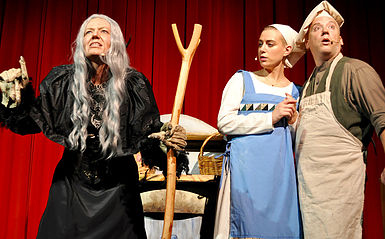 ensemble of passionate actors and production technicians who had previously performed together. The Company's first production, Hedda Gabler, was successfully produced on the Troy Howard Middle School stage in Belfast and at the Camden Public Library, totally through volunteer efforts and in-kind donations of labor and materials. Today, productions continue to be offered at the Crosby Center, receiving excellent reviews in local newspapers.
The 2020 season will include An Enemy of the People by Henrik Ibsen, The 39 Steps, adapted from the Hitchcock film, and Matilda the Musical based on the children's book by Roald Dahl. For more information go to www.midcoastactors.org
Belfast Maskers
Founded in 1987 by retired theater arts professor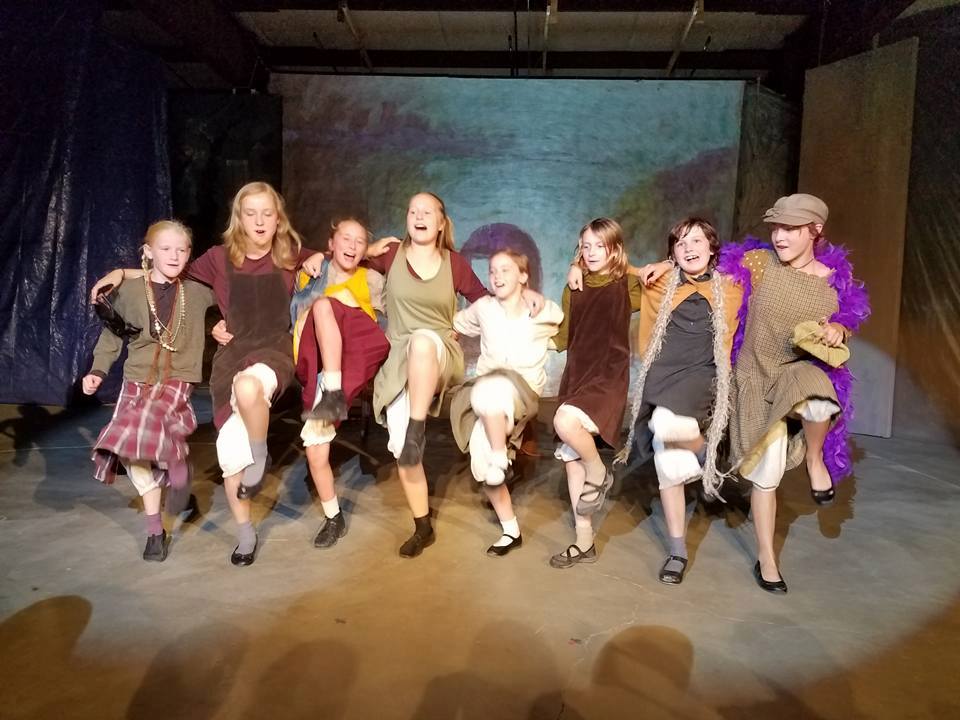 Basil Burwell, the Belfast Maskers have entertained and engaged audiences and volunteers with quality community theater productions for over 30 years. From 1989-1992 the Maskers were a resident company in renovated church at 17 Court Street. In 1992, with help from the City of Belfast, the former Belfast Moosehead Lake railroad terminal was converted into a theater that would house the company for the next 19 years. In 2011 the City had to close the Maskers railway theater building. Since then, volunteers have transformed parks, warehouses, and church social halls into instant theaters. The year 2018 marked the beginning of a new era for the Maskers as they become the owners of the Court Street building that fostered some of the earliest years. The building will provide a permanent home for the Maskers and a space for other small groups to perform and grow.
The 2020 Season will include productions of As You Like It and One Flew Over the Cuckoo's Nest. For more information: https://belfastmaskers.com/
Senior College

Welcome to The Senior College in Belfast, where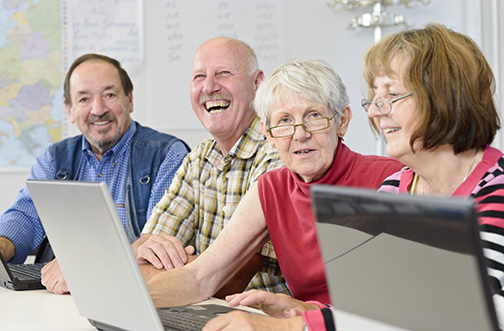 people meet to exchange new ideas, explore classic and contemporary topics and make new friends. Senior College provides a diverse curriculum of programs, classes and special events for those 50 years and older, along with their spouses or partners. Courses for the 2019 fall semester included War: Journalism & History; Art, Nature & Mathematics; American Pop Music 1945-65 and Conversational French. The Senior College at Belfast at the UMaine Hutchinson Center is the second largest of the 17 Senior Colleges in the state with more than 500 mid-coast members. Most classes meet every Thursday for six weeks during the fall and spring semesters (as well as one and two-week classes) and for four weeks during a January-February "Winterim" semester. www.belfastseniorcollege.org

Belfast Free Library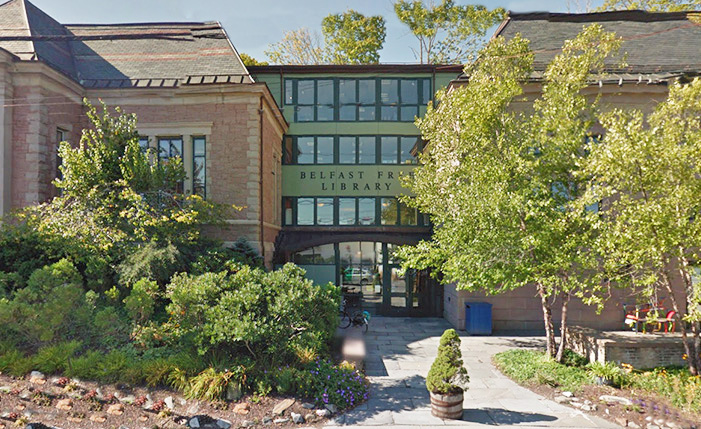 The Belfast Free Library, serving the community since 1887, is housed in a historic building with exposed stone walls, now renovated as a modern resource center. The Library offers a wide variety of programs and services for all ages from storytime and puppet shows for the youngest visitors to Apple computers and comfortable places to work or socialize for the teens. Library programs include art exhibits, discussion series, lectures on international topics and Friday night classic films. The Library also subscribes to a growing collection of digital resources such as eBooks, audio books, periodicals, and the ability to publish original music and artwork into the Library's digital collection.http://belfastlibrary.org/

Rail Bike Tours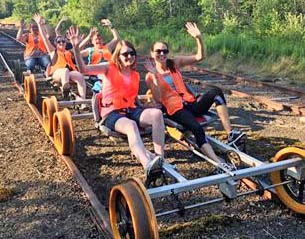 A group of Belfast railroad enthusiasts and owners of the only rail cycles in Maine are offering guided 9-mile round-trip tours leaving from Thorndike Station, 20 minutes north of Belfast.Each bike has two padded plastic boat seats and two sets of pedals on flywheels to accommodate different pedaling speeds. Because the bikes ride on the rails no steering wheel is necessary. The riders provide the power and there's a hand brake for downhill runs and road crossings.The bikes leave Thorndike Station in a loose convoy at intervals of about 200 feet traveling 4.5-miles into the neighboring town of Waldo. The route crosses Wescott Stream twice, passes a transmission corridor, a stone's throw from an osprey nest, and offers plenty of peeks into the woods of Waldo County.The route is mostly flat but a 2-percent grade in places is enough to give riders a light workout and there's the reward of going downhill in the other direction. The bikes can go up to 15 miles per hour and can even glide.Belfast & Moosehead Lake Railroad's rail cycle tours run from Thorndike Station, 37 Gordon Hill Rd. Friday at 4pm and Saturday at 10am, 12pm and 2pm. starting in June through October.
Passy Rail Trail
Starting at the end of Front Street near the footbridge
in Belfast, the city has converted a rail line to an attractive walking and biking path that borders the Passagassawakeag River. It is 2.3 miles one way, level, ending at City Point near the Belfast and Moosehead Lake railroad station. The crushed stone path is mostly shaded, going through hemlock groves, over a trestle bridge, and ending near the railroad station parking lot. Hikers can continue across Oakhill Road where the Sea trail connects for another 4-plus miles. Bikers can complete a loop back to the footbridge by taking a right on Kaler Road (becomes Robbins Rd), and riding Robbins Road about 3.5 miles back to Belfast. This area of East Belfast goes through rolling hills and farmland with very little traffic. After crossing Route 1 it's a short distance to access Footbridge Road connecting to the east side of the footbridge.

Belfast & Moosehead Lake RR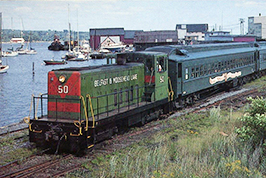 The Belfast & Moosehead Lake Railroad (BMLRR) was a standard-gauge short line railroad that operated from 1871 to 2007 over a single-track grade from Belfast to Burnham Junction. The line was built between 1868 and 1870 by the BMLRR Company majority-owned by the City of Belfast until 1991. For its first 55 years the railroad provided daily passenger and freight service to eight stations over the length of Waldo County, Maine. Passenger operations ceased in 1960 although in 1988 the railroad began operating summer tourist trains. In 1991 the city sold its interest in the money-losing railroad to private owners. Today, the line is operated by the non-profit Brooks Preservation Society as the Belfast & Moosehead Lake Railway and runs weekend excursion trains in the spring, summer and early fall between City Point, Waldo and Brooks. It also provides a shuttle service from Unity or Thorndike to the Common Ground Fair every September.

Farm Fresh in Belfast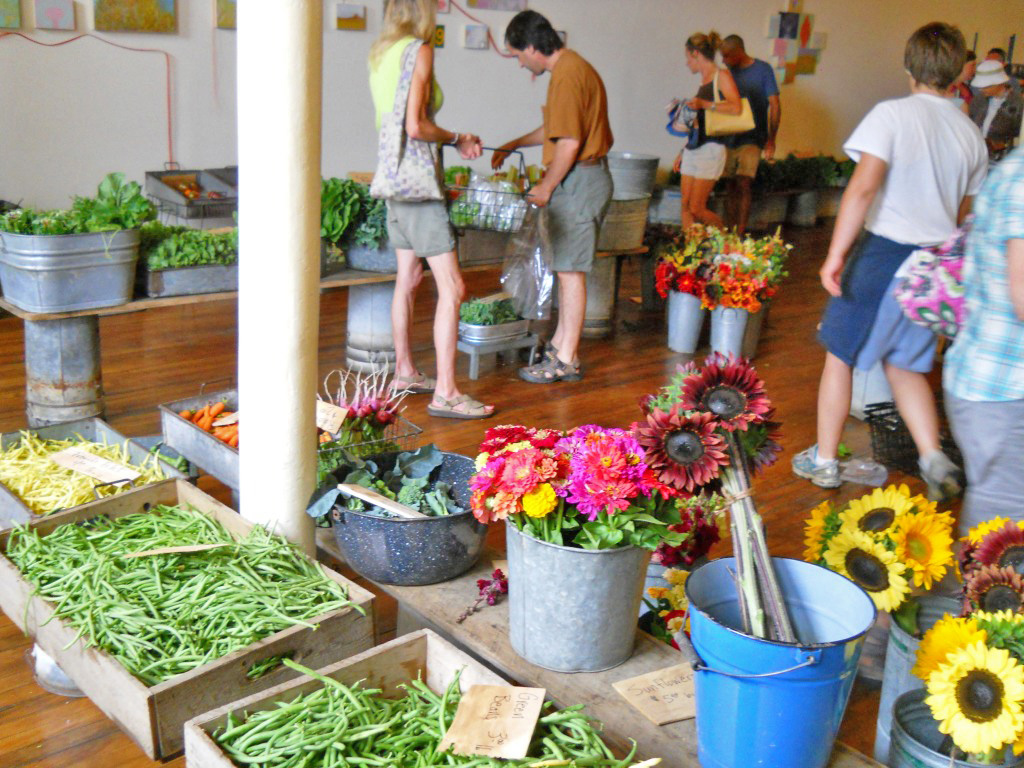 It is easy to buy local fresh produce in the Belfast area. In addition to road-side farm stands selling the usual flowers, jams, berries, tomatoes and corn throughout the growing season, Belfast has a vibrant Farmer's Market twice a week. Sometimes music is performed, sometimes a downtown block is closed to traffic for the vendors to display their wares, and a meal can often be created based on locally produced lamb, cheese, baked goods and vegetables from the Market. Two stores open year-round, the Belfast Co-Op and Chase's Daily also have a cornucopia of fresh local items you will feel good about preparing and eating. Chase's (pictured here) takes the cake in the convenience and inspiration department because it combines an art gallery on the perimeter walls, flowers and produce from the Chase's family farm, artfully displayed cheeses, coffee beans, baked pastries & breads, and has a restaurant on-site.



A Secret Place In Belfast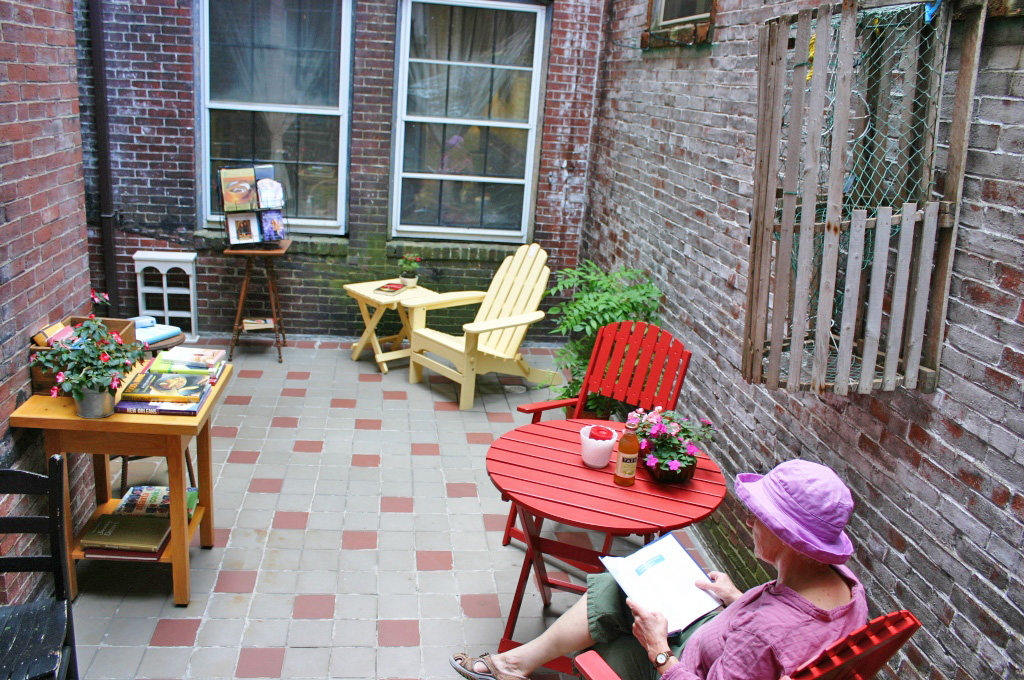 In real estate I often hear, "I'll know what I'm looking for when I see it". That was my feeling when I discovered this little slice of heaven in downtown Belfast just steps from the main intersection. It's a quiet, restored courtyard where you can read a few pages of a book you may buy or sit for a few minutes to catch up with a friend with a cup of tea, coffee or pastry. This hideaway with exterior back walls of adjacent buildings forming the interior walls has the open sky above, 3 or 4 stories straight up, and accessed through the back door of Bella Books, a book and antique shop on High Street. The shop itself has wonderful, artful displays of books (new and used) placed on and with antique furniture, art, china and glassware. Here you can find a painted wooden kitchen table, a teacup and a mystery book to read all in the same place. Let's share this secret!
Maine Celtic Celebration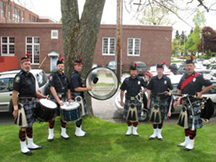 The Maine Celtic Celebration (cancelled in 2020) takes place in Belfast featuring the rich heritage of the Celtic nations found in the coastal communities of Maine. The celebration is known for world-class traditional music presented on three stages over two days and nights. There are opportunities to compete in a 5K fun run, Scottish Heavy Games, and a traditional cheese-rolling competition. The Highland Heavy Games include the caber toss, open stone put, heavy weight throw, and weight over the bar. Other activities include a Celtic Breeds Parade and Dog Show, Kilt Competition, Kilted Canter, and Kirkin' O' The Tartens in addition to relay races and a Wellington Boot Toss for children.
www.mainecelticcelebration.com



Waterfall Arts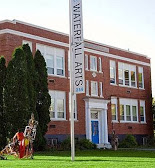 Waterfall Arts is a non-profit contemporary arts center located in the former Governor Anderson School in Belfast and the former Haystack Mountain School of Crafts in Montville. Arts classes including drawing, painting, pottery, bookbinding, photography, paper-making, printmaking and much more are offered to area residents of all ages. In addition, the center presents art exhibits in the Clifford and Corridor Galleries, in their offices and studios, and outside on the exterior walls and lawn at the Belfast location. For more information and a calendar of exhibits and events go to: www.waterfallarts.org



Belfast Dog Park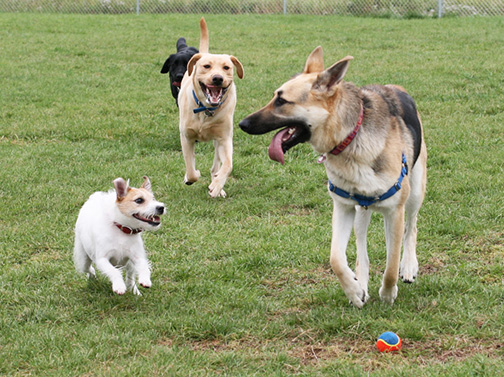 We are so lucky in Belfast to have the only maintained and monitored, fenced area for dogs to run free in mid-coast Maine, thanks to the inspiration and efforts of a group of about 15 area dog lovers, Friends of the Belfast Dog Park. About a mile from the center of downtown, the park is within walking distance for many area residents. Opened in 2008, it includes sturdy fencing, stone walkways, a motion-activated dog waterer, benches and a gazebo for dog owners to enjoy during inclement weather. With separate areas for small and large dogs, frisky doggies can enjoy being safely off-leash. The Belfast Dog Park is free and open to the public from dawn to dusk except the second Saturday of each month it is closed from 9 to 11 AM for maintenance and cleaning. Volunteers are always welcome!
http://www.friendsofbelfastparks.org/belfast-dog-p…


Fiber College is like a Vacation!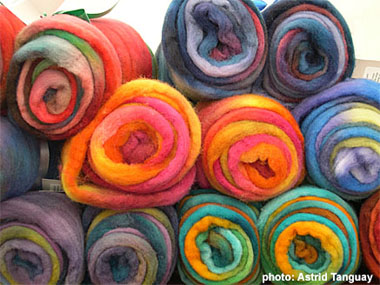 Weavers, knitters, spinners, quilters and other crafty people don't need to be reminded what is happening the weekend after Labor Day on Penobscot Bay because they have either attended or plan to attend the penultimate fiber event of the year at the Penobscot Shores Campground in Searsport. The four-day event includes over 50 classes and hourly demonstrations. All this takes place at a campground where accommodation options range from a B&B to a tent site. You can come for one class, stay for a full day of classes, stay overnight for the whole event or drop in with a hand project and work on it while you relax and meet other participants. As a quilting instructor said, "There will be a time for 'perfect' later…enjoy this time without pressure, and laugh.
www.fibercollege.org


Belfast Garden Club's Open Garden Days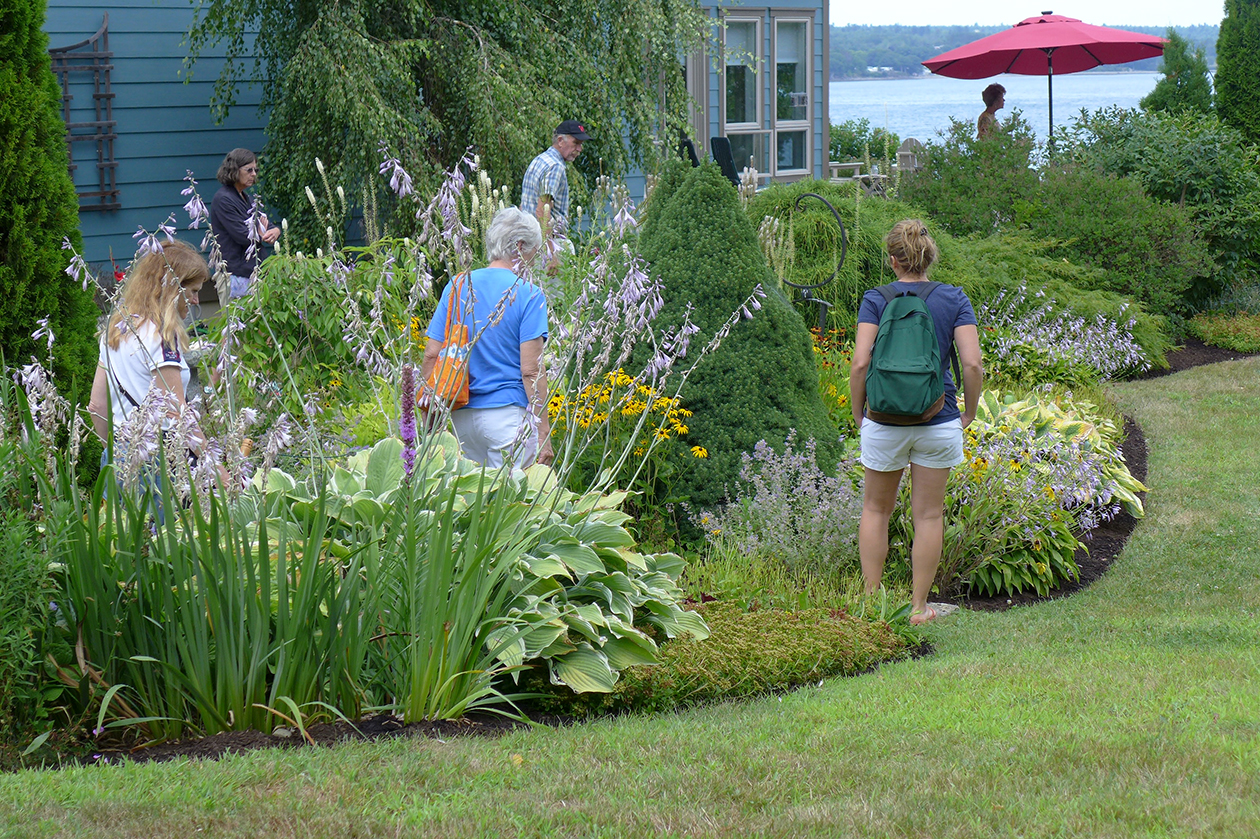 Belfast Open Gardens schedules one private garden open all day on Fridays in July and August beginning with peonies, columbine, and poppies and ending with roses, mums and lush vegetable gardens ready for harvest. The gardens in 2020 will be listed with directions on the club's website www.belfastgardenclub.org. Tickets are sold at each garden.


Fort Knox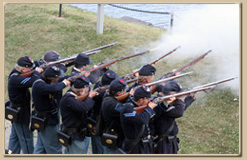 Explore the Fort and discover this treasure of Maine and United States History. Fort Knox is open May 1 – October 31, from 9:00 – sunset. The newly constructed Penobscot Narrows Bridge boasts an observation tower, rising 420' above sea level, which may only be accessed through the Fort. The observation tower provides a breathtaking view of the Penobscot River Valley. Special events at the Fort in 2017 include Maine Battery Cannon Firing, Ghost of Fort Knox Guided Tours, Scottish bagpipers and precision marching bands, and a Pirate Festival. For dates at times go to:
http://fortknox.maineguide.com/events.html


The Good Table Cooking Class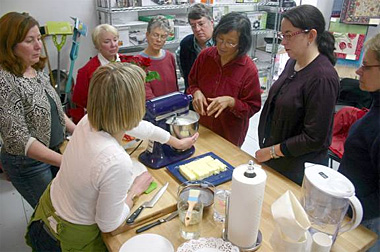 My favorite cook-wares store in Belfast, The Good Table, hosts a series of Saturday cooking classes in fall and winter. Upstairs in "Cookbook Heaven" with over 500 titles is the demonstration kitchen area. I attended a class with instructor Erin French, owner of The Lost Kitchen in Freedom, who made almond cake with chocolate ganache and vanilla buttercream frosting. Confessing to be self-taught, Erin was nonplussed facing her audience of women who had baked and decorated hundreds of cakes collectively. She showed us some tricks we had never seen! Everything Erin used in the class from the cookbook to the pre-cut parchment papers to the rubber-tipped Cuisinart paddle is sold in the store. Upcoming classes will include cookbook authors and chefs demonstrating their specialties. www.thegoodtable.me
Come Boating!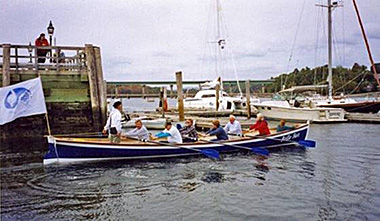 Belfast's community boating club, 'Come Boating!' (cancelled in 2020) offers a community rowing program giving folks with no prior experience an opportunity to be part of a 'pick-up team' on a six-oared Cornish Pilot Gig. For an hour or so about 12 times each week you can go for an early morning row in the harbor when the fog is rising off the water or an evening row when the harbor is quiet again. On every community row is a trained volunteer coxswain who stands in the stern to call the strokes: 'Stroke!…Stroke!', and steers using two ropes attached to the rudder. The twelve-foot-long oars are hollow and lightweight (hand-me-downs from the Harvard Crew Team) but need to synchronously dip into the water to pull the gig forward. The launch schedule for 'Community Row' and 'Quiet Row' (both requiring no experience) is on-line and at the boathouse and the sign-up sheet is in the black mailbox. www.comeboating.org


Go Sailing!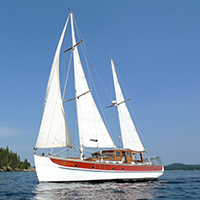 Sail Penobscot Bay on a 2-hour excursion aboard the vintage yacht Guildive, departing the Searsport Public Wharf every Saturday and Wednesday at 11am from June through August. The vessel is owned and operated by USCG licensed Captains Zander Parker and Kate Kana both of whom have extensive sailing experience. "We sail where the wind takes us, sometimes to the Holbrook Sanctuary, over to Islesboro, or under Dyce Head lighthouse" says Kate. The Guildive was constructed in 1934, built as a private yacht, with a large open deck forward with plenty of space to spread out, soak up the sun and enjoy the clean Maine air. Reservations need to be made 24 hours in advance. For more information: www.guildivecruises.com
Belfast Harbor Fest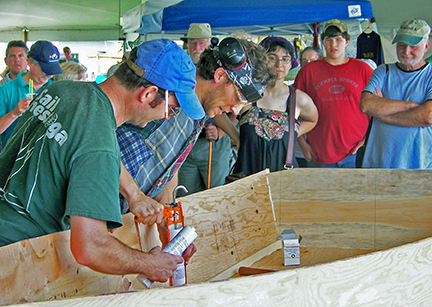 The Annual Belfast Harbor Fest featuring the Come Boating Regatta, the National Boatbuilding Challenge, the Classic Small Boat Show, and the Cardboard Boat Challenge will take place in August. The Boat Building Challenge pits teams of two to build and launch a pre-designed boat in four hours from materials provided. Other activities include a Launch Party with live music on Friday night, a blueberry pancake breakfast on Saturday morning, a BBQ on Saturday night, various food vendors throughout the weekend, and special outdoor activities for kids. For more information: www.belfastharborfest.com
Penobscot Marine Museum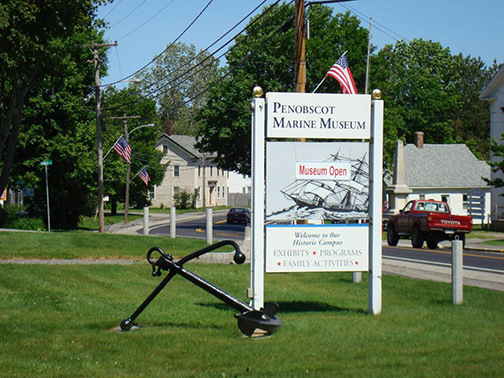 The Penobscot Marine Museum in Searsport is Maine's oldest maritime museum and is designed to preserve and educate people regarding Maine's and Searsport's rich and unique maritime and shipbuilding history. Designed as a unique 19th century seafaring village, the museum encompasses thirteen historic and modern buildings, houses a modern exhibit gallery features annual shows and is home to a regionally important library and archives focused on maritime history and regional genealogy.
Seasonal exhibits include Regional Watercraft, Gone Fishing, Souvenirs from the Orient, Rowboats for Rusticators, Working the Bay, Hall of Ship Models, Folk Art of the Penobscot, Sea Captains of Searsport, and Scrimshaw.
Playing Bridge in Belfast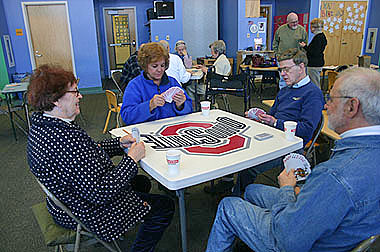 Learn to Play:
There is nothing like actually playing bridge with a group. If you are new to town and want to learn or practice with other seniors, the Waldo County YMCA in Belfast has a free drop-in bridge room open on Thursdays from 10:00 am to 2:00 pm. This is an informal group of players who will help you learn the bidding and advise you how to play a hand (someone at another table will consult with you) if you want to sit down and play at a table. Or you can observe some games in progress and kibitz with the other extra players waiting to play.

Duplicate Bridge: If you are an accomplished bridge player you will want to join the group that plays duplicate bridge on Wednesdays at St. Francis Church Hall in Belfast from noon to 4:00 pm. You are welcome to come with a partner. For more information call 338-3687 or 338-4793.


Left Bank Books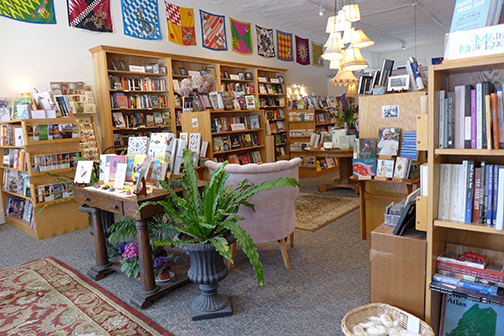 We are readers in mid-coast Maine! My favorite bookstore is Left Bank Books in downtown Belfast where a welcoming bell tinkles when you open the door. Of course, there are the expected collections of mysteries, fiction, books about Maine, children's books and biographies, but what makes this shop special is the personal attention. No teen behind the counter chatting with a friend on her cell phone here! The mature staff or one of the owners greet you when you enter and genuinely want to make a suggestion to help you find what you want. The shelves are stocked with over 6,000 personally selected titles you probably won't find anywhere else, and they also carry bestsellers and the daily newspapers from New York and Boston. Do you have some time to browse? The tea kettle is always hot. Choose a bone china cup and settle into a worn velvet wing-back chair to read a few pages of your book selections before you make a decision. There are also imported chocolates, unusual greeting cards from England, and little whimsical tokens for each season. Sign up for the shop's newsletter to learn when the talks by authors are scheduled.
Harbor Walks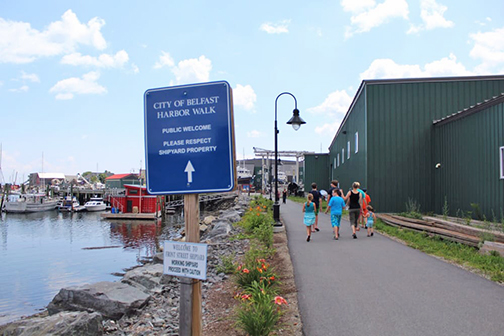 Belfast Harbor Walk follows the harbor from one of Belfast's in town parks to the walking bridge that spans the harbor. Walking this special well constructed harbor trail offers glimpses of the many moored pleasure and lobster boats to the beautiful grand red and black tug boats pier side. A truly exceptional feature is the opportunity to walk through a working boat yard. Viewing yachts in for a "tune-up" to watching the grand boatlift in progress is special. This trail can be enjoyed for a romantic summer stroll to a brisk early morning exercise walk. You can also easily walk along the actual shore at low tide because of a public right-of-way to the shore at the end of 10 streets. Bring along binoculars for bird watching or even a picnic because there are many places along the way to stop and rest on ledge outcropping or large rocks.


Friday Gallery Walks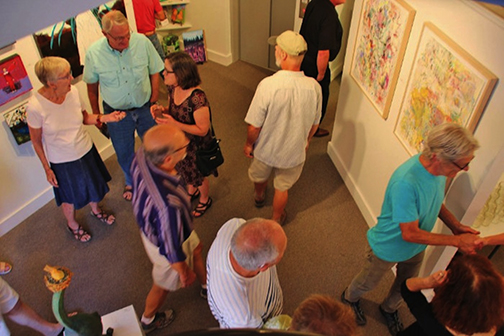 The Belfast Fourth Friday Art Walks will return for the 2018 summer season, on the fourth Fridays of every month from May 25 through September 28. The art walks take place from 5:30 to 8:00 in the evening, right in the heart of Belfast, and celebrate the Belfast community's rich and exciting variety of arts.

The Belfast Fourth Friday Art Walk will feature new and returning sites, showcasing an array of arts and crafts. These summer evenings can be spent roaming on and around Main Street and High Street, enjoying Belfast's remarkable arts community, chatting with artists and makers, relishing the summer weather, and being inspired. Expect dancers, musicians, poets, and more to enhance the evenings with music and performance. The art walks are relaxed, self-guided, and allow you to spend the evening doing exactly what you want. Visit one site or a dozen – it's for you to choose!



Sidewalk Art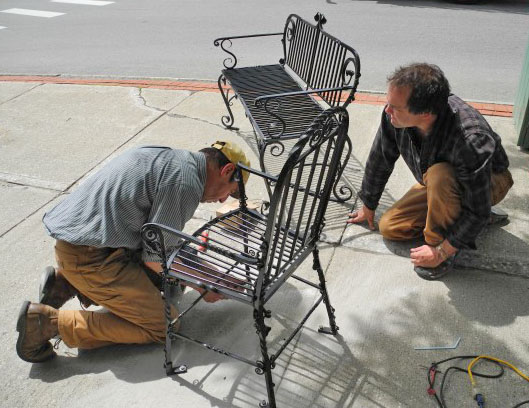 Don't miss the multi-site art installations of public art by local artists on display from June through October on sidewalks and street corners in the Belfast downtown area. The themes range from 'Eco-Motion" (made around and including bicycles and tricycles) to 'Please Be Seated' (artistic benches) to Belfast Bears. The sculptures are intended to be interactive and beg to be photographed.


Belfast's Art Deco Movie Theatre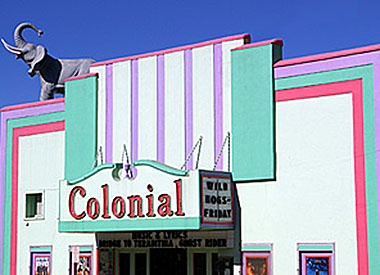 Not really a museum, but having a vintage feel, The Colonial Theatre has been Belfast's movie theatre since 1912, opening the same day the Titanic set sail. As live Vaudeville shows often performed prior to the movie in the early days, the theatre was built with a stage. Now there are three movie screens. The third theatre, called "Dreamland", is accessed through a tunnel under the building and includes the original stage and balcony seating. In 1997 when Perry's Nut House was sold the theater owner purchased the two elephants that stood outside the Rt.1 tourist attraction for many years, Hawthorne and Baby Hawthorne, and brought them to the theatre downtown. Hawthorn (fiberglass) now trumpets on the theater roof above High Street and Baby Hawthorne (hand wood-carved in the 1930s) invites children to sit on her back in the lower lobby. In addition to popular block-buster-type movies, the Colonial Theatre shows independent and foreign films. www.colonialtheatre.com



Middle School Garden Project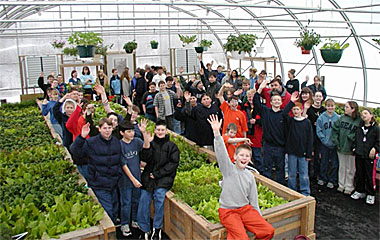 Far from 12-year olds sprouting bean seeds in a Styrofoam cup on a classroom windowsill, since 2001 the Garden Project at Belfast's Middle School for grades 6, 7 and 8, has been producing salad bar options for the school cafeteria and selling the produce at the Belfast Co-Op. The project's outdoor gardens cover about a third of an acre on the school campus and are complimented by two hoop-style greenhouses, a commercial greenhouse (with rabbits, fish and chickens in addition to crops inside) and 40 fruit trees in a small orchard. Over 100 plant varieties are grown and over four tons are harvested each year. The students also operate a farm stand at the school in the fall and spring.Even when the outdoor temperature is 7 degrees below zero, students are raising spinach and other cold weather crops under polyethylene covers in the hoop houses. Thanks to summer garden camp at the school, students are able to maintain their crops of vegetables, herbs, fruits and flowers year round. Read about the pizza garden, red worm farm, popping corn trials, identifying aphid species with a digital microscope and see the many blue ribbons won by students on their website. Volunteers are always needed. Retired gardeners, educators and good cooks are especially helpful. Contact teacher Steve Tanguay. www.schoolgardenproject.com


Belfast Curling Club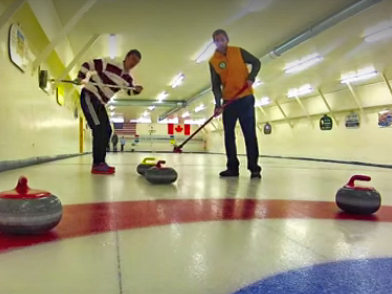 Curling is an Olympic sport enjoyed by all ages and skill levels. It is a true team sport played on ice prepared especially for hurling 42 pound granite rocks down to precise locations at the opposite end of the ice. Sweeping allows the rock to stay straight and carry farther. Eight stones are shared by 4 team members and the loser of the eight end game always wins since the winner is responsible for the refreshments! At the Belfast Curling Club activities take place throughout the week, November through March. Visitors are encouraged to drop in and watch and to attend special events on weekends. For free instruction call 338-1466 or 785-6134.
www.belfastcurlingclub.org