Belfast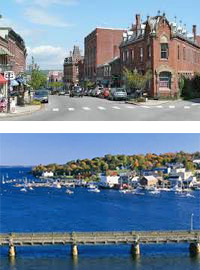 The only city in this region (population 6,400) and the location of health services including the hospital, home health, two nursing homes, family planning, mental health services and assisted living apartments. The adopted home of many artists and artisans, musicians, writers and craftspeople, Belfast has a thriving theater and gallery community. There is a public indoor and outdoor pool, hiking trails, rivers for canoeing and kayaking, a YMCA, parks and a public boat launch at the harbor. Belfast real estate consists of residential streets lined with historic homes, condominiums (at the ocean and in residential neighborhoods), farmhouses in the outer city limits and some lovely oceanfront homes.


Blue Hill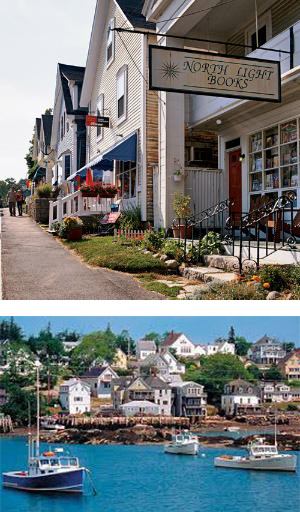 Located on the easterly side of the Blue Hill Peninsula and at the base of blueberry-covered Blue Hill (elev. 950') is the village of Blue Hill (population 2,400). Blue Hill harbor is a protected port for sailors because it is not at the very tip of the peninsular and misses high winds and stormy seas in many storms. There is a public boat launch in the center of town, but avoid it at low tide because it is muddy. Blue Hill is 14 miles from Ellsworth and 36 miles from Bangor, although groceries, wine shops, bookstores, banks, a bakery and art galleries are all right here. Blue Hill has a history of shipbuilding, copper mining and granite mining and in 1876 the granite for the Gothic towers of the Brooklyn Bridge was shipped to New York for the construction. Blue Hill has two private high schools, a public and a private elementary school and a library and hospital among the finest in the state.
Castine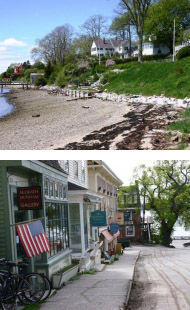 Located at the mouth of the Penobscot River, Castine is one of the oldest towns in New England, predating the Plymouth Colony in Massachusetts by seven years. Discovered and drawn on the first map of the area in 1604 by the geographer for France's King HenryIV, the village was officially founded in 1613 when a trading post and crude fort were erected. The area now has over 20 historical sites marked by signs describing the significance of the spot over a span of 250 years. The excellent deep harbor has tie-ups for small boats outside the river currents and other tourist amenities including a non-exclusive club offering golf, tennis and yachting facilities, restaurants and lodging. A picturesque village green, the oldest post office (in continuous operation) in the United States and lovely Cape Cod and neo-Colonial houses give the town (population 1,300) added charm. Castine is also home to the Maine Maritime Academy, established in 1941 to train merchant seamen. Beginning in the 1870s Castine was the summer home of many well-to-do urban families and well known notables including Harriet Beecher Stowe and Henry Wadsworth Longfellow. Since the 1890s families from Boston, Hartford and Chicago have been buying old farms and sea captains' houses and establishing a civilized pocket in this part of rural Maine.
East Blue Hill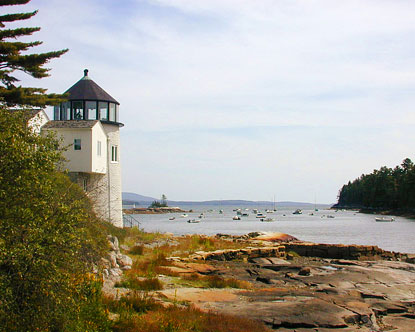 To the north (up the coast) from Blue Hill about 6 miles is the little "village-ette" of East Blue Hill, consisting of a one-room post office with a wood stove, a library in a former summer cottage, a church and a stone lighthouse. Local commercial fishermen dock at a pier and marina here which gives this area a less "tourist feel". There is no gift shop in sight! There are actual salt water farms in East Blue Hill and clam flats. It is located on a road less traveled and many visitors to the area miss it entirely.
Hope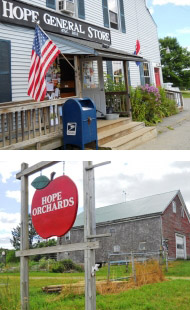 This lovely village amid the rolling hills west of coastal Camden has increased its population by 300 in the last 10 years to about 1,800. It includes a Hope Center and South Hope, which has the actual Main Street. Hope Center is the heart of the community in part because the
current owner of the Hope General Store located there has become a "mover and shaker," not only introducing a new look and new products in his store (imported British and Irish products, a wine selection and over 100 beers) but also generating ideas for town activities and promoting them. This year, for example, there is a jazz concert in the park and a triathlon (swim, bicycle and run) in addition to more traditional community events like the 20th annual Hobbs Pond Swim, an event with no registration, no prizes…just show up and swim! Hope Center is not only home to a modest library, historical museum and ice cream stand, but also has a blacksmith shop (creating iron tables, chairs and sculpture), a bellows bagpipe maker, a Publick House and Restaurant in this rural town once only known for its wild blueberry and apple harvests. Hope is Hip!


Liberty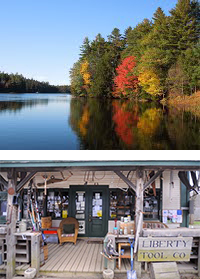 Located about 30 minutes from the coast, Liberty (population 925) is best known for its State Park on Lake Saint George. The largest employer is Liberty Graphics, designers and makers of silk-screened t-shirts, but the biggest draw for visitors is Liberty Tool, a store that feels like a museum of old tools you can buy. There is a main street and a town center plus a rural health center and ambulance service affiliated with the Belfast hospital here.


Lincolnville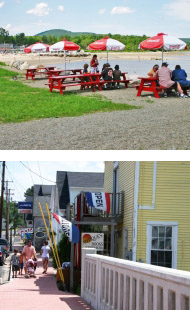 There are two parts of Lincolnville (population 2,000): Lincolnville Beach, located on US Rt.1 and Lincolnville Center located a few miles inland. Lincolnville Beach has a sand beach on the ocean, health center, restaurants, motels, B&Bs, gift shops and the ferry terminal for the Islesboro ferry. Lincolnville Center is the quiet side of town which has a municipal park and gazebo, a cluster of older homes along a main street, the "petunia pump" and general store/café. Lincolnville real estate offers year-round homes on ponds and Megunticook Lake, oceanfront homes, rural and residential homes.


Northport & Bayside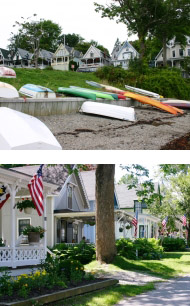 There are two parts of the village of Northport (population 1,400): west of US Rt. 1 is rural and sparsely developed; east of US Rt.1 is the ocean side and the dense communities of Saturday Cove, Temple Heights and Bayside. Northport has a golf course (9 holes), a yacht club, town wharf, village green and yet lobster fishermen still dock (at Saturday Cove). Bayside has a charming cluster of gingerbread cottages over 100 years old on tiny lots along street grids (some streets have never been paved). It is a place where people take an after dinner stroll on summer evenings and talk with their neighbors sitting on their front porches. Temple Heights is a cluster of cottages perched on a steep hill overlooking the Bay on former tent sites designed for a Methodist summer camp a hundred years ago.
Searsmont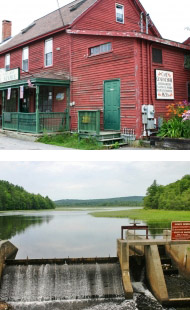 The economic life Searsmont (population 1,250) is centered around wood. A family-owned business mills lumber and has 150,000 Christmas trees on its plantations. Although there is no village common here, there is a strong sense of community. The antique general store on Main Street is also a café (specializing in home-made pies) and the architecturally designed and newly built town office/library/historical museum is always a-buzz with activity. There is conservation land, a campground and the swift waters of the St. George River that rage through town in the spring for the annual race for canoes and kayaks. On Memorial Day there is an annual parade through Main Street that includes everything from kids on decorated bicycles to a proud farmer driving his shiny, new tractor.
Searsport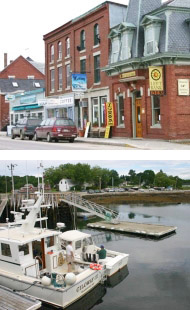 The town of Searsport (population 2,800) is on the coast and is one of the few remaining towns to have U.S. Rt.1 as its Main Street. Once known for shipbuilding and the home of 10% of all American sea captains in the 1880s, the town is now best known for its marine museum. The museum consists of a village setting including seven homes, a church and Main Street stores where visitors walk from building to building to see art galleries, sea diaries and memorabilia, antique furniture and live demonstrations of rigging the sails. Many former sea captains' homes are now Bed and Breakfast Inns. Sears Island, connected by a man-made causeway, is the largest uninhabited island (7 miles of coastline) on the east coast and a popular spot for hikers and dog walkers. Searsport is also one of the deepest ports in Maine and accommodates oil tankers and other international ships at the Mack Point terminal.
Stockton Springs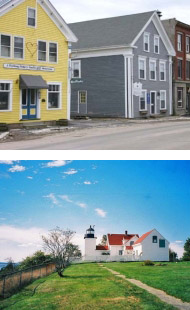 There are three settlements within Stockton Springs (population 1,400): Stockton Village, Sandy Point and Cape Jellison. The village area is the streets off the main street (formerly U.S.Rt.1) and main street itself. Services such as a health center (affiliated with the Belfast hospital), the post office and town office are in this area, but there is no shopping district except for an art gallery and ceramic artist's shop. Sandy point has salt water frontage with a current, so the sandy expanse of beach is more for doggie frisbee than boat launching, but there is a State Park and hiking trails here. Cape Jellison juts out into the ocean and although there is a current at one corner of the triangular cape (Fort Point lighthouse was built there to warn seamen and is now a State Park), there is a good mooring area and boat launch on the quiet side.